Welcome to the unique warbird image experience that gives you a peek at what lies beneath - Hangar Sortie "a look under the skin". Free shipping on all orders within continental U.S. Please feel free to contact us with any questions or special requests at: info@aero-fotografik.com or call 262-441-9001 Thank You!
The Editing Tank: Where pixels dogfight. From the aerials carefully chosen for the backdrops to the ground detail shoots, all the images merge to create a final work that fires the imagination and sets the mood for dramatic adventure.
On the easels behind Chris are two HSX series prints that have been laminated and mounted to foamcore. These are HUGE 24x34 images guaranteed to feed the eyes and imagination. Even more impressive on canvas which adds more texture and depth.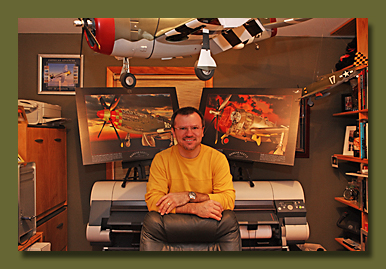 In this photo: Chris Wawro of Aero-Fotografik, LLC